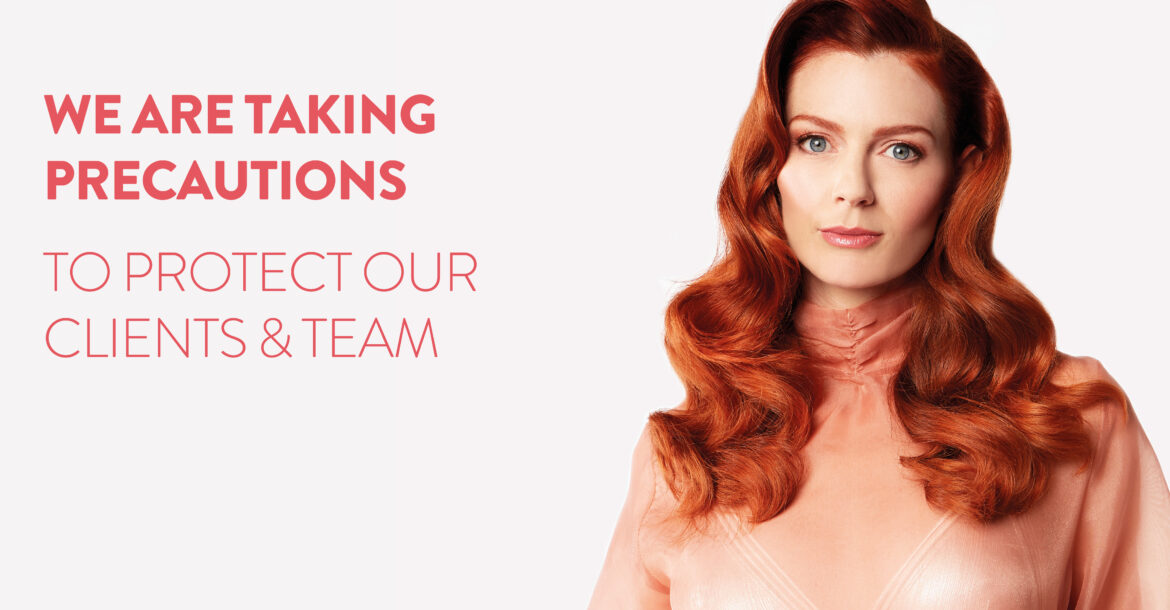 Dear valued client,
It's been sooo long since we last saw each other and we're sure you are as keen as we are for us to get back in the salon doing what we love doing best.
During these unprecedented times I'm sure we've all gone through some tough moments, emotionally, financially and mentally. We are very aware that although you are desperate to see your stylist, it can also feel a bit daunting at first being back in the salon environment. As it stands, we are expecting to reopen on the 4th July, and we have been working very hard to put in place as many safety measures as possible for the safety of our clients and our team.
We are going beyond the governments safety guidelines in preparing for our return. We will be working on a very strict and controlled schedule and timescale in order for us to be able to see to and accommodate as many of our valued clients as possible whilst making all of our safety paramount, so we ask for your patience and understanding during these times.
When visiting your salon things, I'm sure will look and feel a little different. For your reassurance and safety, we can also confirm that
Scissors and other tools along with styling and backwash chairs will be thoroughly disinfected between each client
All gowns and towels will be washed at a high temperature as usual after each use and where possible, disposable equipment will be used.
Door handles, card machines and other objects being touched will be disinfected regularly and at least after any human contact
We will all be wearing facemasks but even though you may not see our smile, be sure, we are smiling and glad to see you.
There will be screening in place that was not there before and an operating system different to what you've been used to in the past. This is all for your and our safety and wellbeing.
We will also be extending our opening hours initially in order to cope with the huge demand safely.
Below you will see a list of our new booking structure along with a schedule containing our terms and conditions and health and safety put in place in order for us to operate safely and fairly whilst maintaining the 2m distance. As usual you will receive the highest standard service and result but again we ask for your understanding, patience and cooperation in order for us all to make this happen.
.    .    .
BOOKINGS
Our priority listing is now closed and our online booking system has been reactivated.
We are now starting to accept bookings for New Clients. (New Client intro  and Recommended a Friend offers remain suspended until further notice through Facebook).
Colour bookings can be made online only for our regular clients who have not coloured their own hair since their last visit with us.
Our discounts listed below will be PAUSED until further notice
Tremendous Tuesday
Manly Monday
Recommend a Friend
New client intro offer
Given the time that has lapsed since your last visit with us, we are more than aware that your regular service may not be the same as what will be required for your next visit. Cuts may be classified as restyles, re growth's more like full head colours along with quite a few colour corrections. (charging may vary accordingly)
Please notify us beforehand if you have coloured your hair since we last saw you as this may involve the need for a different colour service from your usual, to be booked.  As time is so precious, we would appreciate your honesty as not to waste an opportunity for others to be seen. If we have not been made aware and therefore have not booked sufficient time, we would simply not be able to carry out the required service
As we will be limited to how many clients we have in the salon at one time, a colour correction consultations may be initially booked in alongside your cut. Following on from your consultation, the appropriate colour service can then be booked in asap with the appropriate timings.
Blow-dry only bookings will also be PAUSED initially and will be kept to a minimum when taken with a cut or colour
.    .    .
OUR SCHEDULE FOR HEALTH AND SAFETY AND TERMS AND CONDITIONS
Firstly, please refrain from making any bookings or turning up at the salon if you are showing any symptoms of Covid 19. Before entering the salon your temperature will be taken with a contactless digital thermometer. If the reading is high you will be asked to book a new appointment after a minimum of 7 days.
In order to reduce time and unnecessary movement within the salon we ask that if possible, clients (especially men) wash their hair before visiting the salon. We can rewash and condition the hair in the salon if need be, but we would appreciate it if hair can be reasonably clean on arrival for hygiene and timing purposes.
Please make sure to arrive at the salon on time and ALONE. Due to working to such a tight and strict schedule, punctuality is paramount. Late arrivals may need to be turned away and a cancellation charge could apply. Late cancellations and no shows will incur a 50% cancellation charge
Only those with appointments will be allowed to enter the salon (no children or friends etc). All other enquiries are to be made over the phone.
There will be no waiting area so please wait outside until being seen to.
Customers and staff must wear facemasks. Please bring your own or one will be given to you but charged £1
Please avoid bringing jackets etc if possible and limited personal belongings
Customers must use our hand sanitisers upon entry to the salon. Feel free to also bring your own although there will be many around the salon.
Keep 2 metres apart where possible except when your service is taking place
Unfortunately, we will not be able to offer you refreshments (water and paper cups only available) but feel free to bring your own and dispose of them in our bin when finished or take away with you.
Consultations and communication will be done via the mirror and not by our usual face to face preferred approach and will be kept to a minimum.
Due to new regulations there will be no stationary displayed or being used (including appointment cards etc) and therefore our loyalty card scheme has now moved to digital. (please ask reception for more info)
Payments and re booking's will be able to be made at the comfort of your styling chair using a portable card machine and iPad by our front of house to avoid crowding around the reception area.
We are really looking forward to finally seeing you all again!
Love all at Roccola Hair x